Living in a city with a hot climate, you are to think about ventilation. It becomes especially essential in summer. What about your garage? If there are windows, it's a great relief. However, how to ventilate a garage with no windows? What are the best solutions? How to arrange proper airing without heavy expenses and great efforts? Let's check it.
Garage Location Considerations
Are you going to buy a new house? You would consider the lot place, size, and number or the rooms. Do you think, garage location is not important? Are you sure, you'll be able to remodel any house side later?
Would you like to convert a garage to a dwelling unit? According to the California Building Code, you'll need to get a permit at first. Fortunately, you are free to install the best mini split system in any room without any limitations.
Benefits of Detached Garages
The similar Building Code Restrictions are in force in many cities, for example, in Vista, and in San Clemente. Remodeling the house would be challenging. However, house owners are allowed to build a detached garage. This option is:
healthy;
inexpensive;
preferable for hobby areas.
A separate building can be custom-built. Its size is not limited. Therefore, you can select one of the best ceiling fans for large rooms to install inside. Detached garage can be built anywhere within your lot. It is more pleasant to work on your vehicle. Additionally, it will be a great storage area. Do you want to add a second story? It can become a rental income space. Meanwhile, how to air your parking lot properly?
Do you feel in your garage like in a hot box in summer? Even a small window can solve this problem. They bring fresh air to the premises. Harmful gases and fumes are drawn out. Passive garage ventilation is beneficial. Opening windows and doors, you easily regulate the indoor temperature.
Therefore, you can make use of:
Wind.
Temperature difference (thermal buoyancy).
Night cooling.
This system is low-cost and low-maintenance. Clean air will be always flowing through. Carbon emissions are reduced naturally. The temperature is kept constant. Meanwhile, are there any other good solutions available?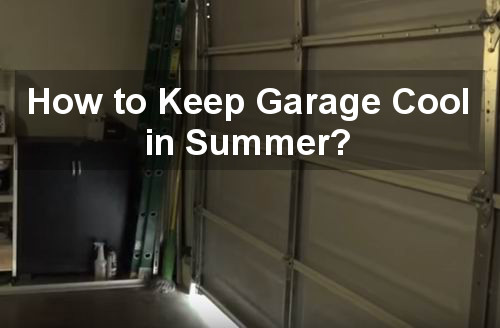 How to Cool a Garage with no Windows?
Have you purchased a garage that has no windows? Adding some window space can be considered as an illegal issue. Do you want to convert it into a living space? Conditioning would be a part of this conversion.
Home garage ventilation is easier to arrange. It can be a part of your HVAC system. Otherwise, install an exhaust fan. It does the job. A small blowing fan can become a temporary solution.
Meanwhile, how can you beat the heat in a separate building? It's possible to:
insulate the garage door;
weather-strip it;
just leave it open.
So, garage cooling that works is essential in summer. When the temperature outdoors is over 100° F, the heat can be unbearable.
How to Vent a Hot Garage?
Can you improve the way you feel inside? Quite naturally, if the garage roof's or doors' color is dark, it attracts heat. Can you paint the exterior into lighter color? I guess, your local authorities would not ban it.
Your garage location and orientation also matter. If it is exposed to the sun, this issue is unmanageable. The best way to ventilate garage is to arrange air conditioning. It's less affordable than natural airing. However, it's efficient.
Additionally, you can:
leave the vehicle in a shade after using it;
unclutter the garage space;
use a dehumidifier.
A vent can be installed on the roof or on the sides. Just place it to the ground. A garage ceiling ventilation fan improves the parking lot décor. These options are less costly than air conditioners. However, they only make the garages breezy, without cooling them.
When you are going to park a car, it should not radiate heat. Can you select an early morning time to work in a garage? If so, open the door at about 9-10 a.m. At daytime, try to be out of the garage.
Attached Garage Ventilation Requirements
Are you going to put your HVAC system in your attached garage? It would need both heating and cooling. Meanwhile, adding ventilation to the garage, don't forget about your safety and health. Carbon monoxide and the other pollutants should not get inside the house.
Garage through the wall ventilation kit provides a smarter solution. Fumes and gases are evacuated through the opening. Fresh air is supplied through the ductwork. It adapts to the wall thickness. A powerful cooling fan can be built in.
Is it still hot inside? Do you want to arrange home garage ventilation? The HVAC system is to comply with the Building Code. What are the requirements you are to meet? The basic rules are:
The appliances are to be located not less than 6 feet above the floor ;
The ducts are to made of thick, top-quality steel.
Private garages are to be protected by fire sprinklers.
Heating fans are to include interlock systems.
That is, fire safety in a garage is primary. Solid fuel burners and stoves are not allowed. Fortunately, we are to deal with cooling rather than with heating.
What shall we do? A proper air barrier between the garage and home is to be provided. The duct system is to be sealed. Carbon dioxide and other fumes should not penetrate the house. Additionally, air pressure in the garage is to be lower than in the living space.
Is it too complicated? Prefer a ductless system. It's designed for individual spaces. It works like a regular air conditioner. However, mini-splits are:
energy-efficient;
quiet;
compact.
Two units: indoor and outdoor ones are connected by suction tubing. Quite naturally, a condensate drain pipe and a power cable are available. That is, no ductwork, leading to the house is necessary. The indoor unit removes heat from the garage. It transfers it outdoors. Outdoor unit damps it by the refrigerant.
How to Size the System?
Have you decided to select a mini split for your garage? Don't forget to consider the room footage. Normally, the capacity is to comply with the table. It is measured in British Thermal Units (BTU).
| The number of cars | Garage Area, sq. ft. | Mini-Split Capacity, BTU |
| --- | --- | --- |
| 1 | 400-450 | 10,000 |
| 2 | 550-600 | 14,000 |
| 3 | 900-1000 | 18,000 |
However, if you live in a state with a hot climate, add up to 30% to the appliance capacity. Additionally, high ceilings and poor insulation would make the system to be 20-30% larger.
Are you going to arrange residential garage ventilation? Don't forget to check your local building code. You might need to get a permit. If you prefer a mini-split system, it would be still necessary. However, this option is safer, it's healthy and more affordable.
Common Representation
I tried to reveal all the advantages and disadvantages of garage ventilation for you. I hope my advice will help solve your problem with the lack of fresh, and most importantly cool air in the garage.
Video: How to Ventilate a Garage with no Windows?