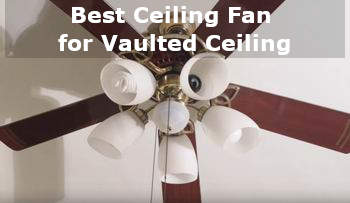 Have you recently moved to a new house? You might discover several design surprises. What if it has no attic? You don't have a place to store your old, bulky stuff. Additionally, you might need best ceiling fan for a vaulted ceiling. It's necessary to remove hot air from your house.
Does your living room or bedroom has high, cathedral ceilings? It creates an open, airy feeling, making space look big and beautiful. Vaunted ceilings provide a spacious area. This huge area must be provided with proper ventilation.
Ease of installation matters when it goes about high ceilings. What are the other essential features of the fan you need? Check several perfect options I recommend you. I hope this review helps you to make your informed choice.
Best Ceiling Fan for Vaulted Ceiling in 2023
Image
Title
Prime
Buy

Top

Top

Honeywell Ceiling Fans 50608-01 Xerxes Ceiling Fan, 62, Brushed Nickel

Prime

Eligible

Check Price

Top

Andersonlight Fan 48" LED Indoor Stainless Steel Ceiling Fan with Light and Remote Control

Prime

Eligible

Check Price

Top

Hunter Indoor Ceiling Fan, with pull chain control - Donegan 52 inch, Brushed Nickel, 53338

Prime

Eligible

Check Price

Top

Craftmade 3 Blade White Ceiling Fan Without Light VE58W3 Velocity 58 Inch and Wall Control

Prime

Check Price
1. Honeywell Xerxes 50608-01: Great Ceiling Fan for Slanted Ceiling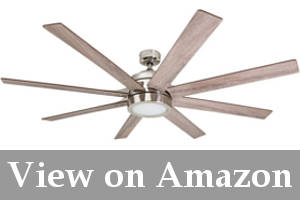 Spacious rooms are charming and beautiful. They give no sense of claustrophobia, introducing feeling of space openness. A powerful, heavy-duty, oversized ceiling fan elevates, complements it. Honeywell Xerxes is an industrial fan model. It features 8 large blades. It's sturdy and durable, coming with a limited lifetime warranty.
Total fan size or blade span is 62 inches. Does it provide sufficient airflow? In summer, it would be not easy to remove hot air. It rises, being trapped under the roof ridge. The fan provides up to 6310 CMF of airflow. It's possible at its highest speed. Xerxes suits rooms that are larger than 20 x 20 feet. Smaller area can't accommodate such a huge fan!
Honeywell fan is contemporary by style. It features bold body and brushed nickel finish. Blades may match a traditional style. Select grey oak or French oak option, keeping the necessary side downward. The fan features warm, dimmable LED lights. It's quiet, suiting your bedroom. It doesn't disturb your sleep. Light is not bright, easy on eyes.
Specifications
Brightness: 1400 lumens.
Color temperature: 2700K.
LED power: 18 watts.
8 blades.
Dimensions: 14.7" x 62".
3 mounting options.
The fan comes with handy remote control. Assembly and installation might be a bit time-consuming, taking 45-60 minutes. The frame is not lightweight. It consists of steel and weighs 31 pounds. 3 mounting options are available. Angled one suits your vaulted ceiling. Buy an angle bracket separately. Standard downrod is available. Its length is 4 inches. 54" lead wire lets you connect a longer downrod.
Pros
sturdy;
powerful;
quiet;
stylish, elegant design;
handy remote operation.
Cons
light is not bright;
buy angle bracket and long downrod additionally.
Verdict
Honeywell Xerxes ceiling fan is large and powerful. It suits your vaunted ceiling if you select angled mounting option. Buy and connect a long downrod. This way, the fan enables sufficient airflow. Use it in your bedroom, as it's quiet. Additionally, it provides dim amber light.
2. Andersonlight 48": Super Ceiling Fan for Cathedral Ceiling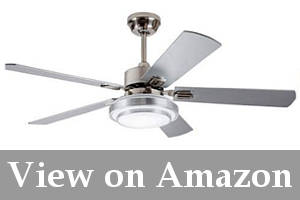 Smaller rooms with vaulted ceilings also need ventilation. The modern ceiling fan by Andersonlightis 48-inches in diameter. It suits your bedroom or living room, matching its contemporary style. The fan ventilates a small space that is only 50-100 sq. ft. It suits also large family rooms with cathedral ceilings that are up to 400 sq.ft.
The fan features ultra-quiet, reversible motor, producing 26-48 dB. It's pretty powerful, consuming 75 watts. Manufacturers cover it with a 3-year warranty. Airflow reaches 5203 CFM at its high-speed setting. Silver blade panels match contemporary appliances and light fixtures. The fan comes with 5 wide blades. Reverse them, if you prefer beige, wood-imitating color. It looks not luxurious, but sleek and stylish.
As well as all high ceiling fans with remote control, Andersonlight device is easy to operate. Intelligent timing is a great benefit. The fan comes with a bright LED bulb. It changes its color every time you turn the fan on. It's yellow, warm or white, depending on your preferences. Unfortunately, the bulb is not dimmable.
Features and Specifications
5 blades.
Airflow: 4803-5203 CFM.
Sound level: 26-48 dB.
Motor power: 75 watts.
3 wind speed settings.
Installation is intuitive. Round Led light panel with acrylic lampshade is magnetic. 2 downrods (4.9" and 9.8"-long) are available. Mounting on the slope that is sharper than 15° comes with some issues. You are to find a suitable downrod extension and mounting accessories. Extra wiring is also necessary.
Pros
modern look;
ample airflow;
straight forward installation;
upgraded remote control;
3 light color options.
Cons
remote control has no 23A battery included; this type is hard to find;
no dimmer option.
Verdict
Andersonlight 48" fan is powerful, quiet and easy to operate. I think Chinese manufacturers produce it. This device is lightweight. It might include some plastic parts. But the fan is sturdy, quiet and modern. It meets your small or mid-size room ventilation needs.
3. Hunter 53338 Donegan: Large Ceiling Fan with 3 Lights
Do you live in a farmhouse? Your summer house or rustic home looks cozy and charming. Rustic style is simple, natural, solid. Traditional materials like wood and stone intimate brutality and comfort. Donegan ceiling fan by Hunter adds a beautiful accent to your room.
The fan is sophisticated by design. I would call it a hybrid, consisting of a fan and a chandelier. 53338 model comes with brushed nickel finish. It looks smooth and decorative. Dark walnut/ distressed oak blades are reversible. One of them should match your massive furniture.
Three traditional lights illuminate your vaulted space. Each 9W LED bulb provides 590 lumens. Frosted glass dome shades are transparent. Light passes through them diffusely. It creates an atmosphere of coziness and privacy.
Did you use pull chain light switches when you were a child? Your family farmhouse is a great place to feel a bit nostalgic. Has anything changed? Raise your hand to select the necessary fan speed or turn it off. Dim the light, using a wall switch or remote control.
Additional Characteristics
Fan diameter: 52".
Blade pitch: 13°.
5 blades;
3-light fixture.
Brightness: 3*590 lumens.
Airflow capacity: 4,930 CFM.
3-speed, reversible WhisperWind motor.
Hunter is a renowned brand and provides a limited lifetime warranty on its engines. It means the fan is long-lasting, quiet and powerful. It produces decent airflow that reaches 4,930 CFM. Maximum power consumption is 62.2 watts.
The installation manual is easy to follow. It includes numerous pictures and detailed instructions. Only lighting pin connections are difficult to attach. 2 downrods (2" and 3"-long) are available. Angled mounting is possible. Downrod extensions and accessories are optional.
Pros
decorative, rustic design;
powerful, quiet motor;
use the fan with or without the light kit;
handy pull chain control;
low energy consumption.
Cons
a longer downrod is necessary;
installation on vaulted ceilings might be time-consuming.
Verdict
Donegan fan by Hunter is powerful and stylish. It matches your rustic interior style. Use it with the 3-light fixture or without it. It looks like a chandelier attachment, coming with clear frosted glass globes. The lights are bright, dimmable, energy-efficient. Overall, this device is top-quality. It's worth your attention.
4. Craftmade Velocity: Good Fan to Cool a Room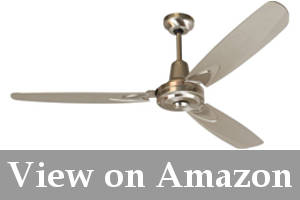 Look at this ceiling fan. It seems to be pretty simple. Coming with three blades, it might create an impression of a cheaply made device. But only at first sight. Quite naturally, Velocity model is not purely decorative. It has no remote and light features. Motor of the fan is not reversible. It only cools your room in summer.
But it's a functional, heavy-duty device. Using 83-95 watts of electricity, it produces strong airflow. 7,731 – 9,208 CFM capacity at high speed is impressive. 4 speed levels are available. Select the one you need, using a wall switch. The fan is quiet and efficient.
Key Features and Characteristics
Diameter: 58".
Blade pitch: 19.5°.
3 blades.
Airflow capacity: 7,731- 9,208 CFM.
power: 95 watts.
Do you like slim appearance of Velocity fan? It matches several room styles, including art deco, industrial, loft or techno. Its blades consist of ABS plastic. They are still pretty rigid and durable. Therefore, the fan is lightweight. It weighs only 16.7 pounds. Core, metal parts feature painted finish. So, the fan doesn't resemble other ceiling fans for high vaulted ceilings. It's not sleek. Its surface is matte black.
What about the installation? It's easy, as instructions are detailed and clear. It's important to secure the screws on the blades properly. Check their tightness. The fan is very strong and fast-spinning. It can loosen the screws. A long, 12-inch downrod is inside the parcel. Mounting on your vaulted ceiling is possible if the slope angle is less than 21°. Longer downrods and additional mounting accessories are optional.
Pros
powerful;
quiet;
slim appearance, matching diverse interior styles;
intuitive to install;
rigid airfoil design.
Cons
no lighting and remote control;
non-reversible motor.
Verdict
Velocity ceiling fan by Craftmade is powerful and stylish. It provides strong airflow, coming with a heavy-duty motor. Lighting and remote control features are absent. Winter, updraft mode is also not available. But in summer heat, the fan is helpful. It moves a lot of air quietly.
Quick Answers About Ceiling Fan for Vaulted Ceiling
Your house doesn't have an attic. Do you like it? Your second-floor space looks larger and airier. High ceilings may hold taller windows. You get more natural light, enjoying its warmth and beauty. Additional space lets you feel free and enthusiastic.
Do you think about wasting space? An attic could occupy it. You would store a lot of your old stuff there. Additionally, these architectural features are not energy-efficient. How to get cool air from one room to another? Lower parts of your house feel refreshing in summer. Hot air raises and clusters under the roof. Large indoor space requires powerful venting. Quality large rooms ceiling fans for are efficient and elegant by design.
Right Now interesting information about best ceiling fans for large rooms!
Can You Put a Ceiling Fan on a Slanted Ceiling?
Quite naturally, proper house insulation is essential. Cathedral ceiling is no exception. Ceiling fan solves energy problems. In summer, it removes hot air, pushing it out through soffit vents. It makes your room cooler. Do you want to feel cool breeze? If you don't, it doesn't mean the fan is not efficient.
In winter, ceiling fan pushes hot air down. It circulates by the sides of your room, making it warmer. Ceiling fans for vaulted ceilings are to be powerful to provide ample airflow. Before buying a suitable device, consider its:
size;
motor type and efficiency;
ease of control;
design;
mounting system.
How far should ceiling fan blades be from the ceiling? Large ceiling fans have strict room size requirements. They suit only high ceilings are not less than 8 or 9 feet. Family rooms are from 150 to 300 sq. ft. require proper ventilation. All your family members and guests spend time together in space. You need enough air to breathe. A fan with 50-62-inch blade-span diameter provides adequate airflow.
In comparison, best outdoor ceiling fans are larger than 74 inches by diameter. They are waterproof, damp or wet rated. Outdoor fans come with sealed motor casings. So, they suit your covered patio. Fan blades consist of durable, all-weather materials, like ABS or stainless steel. 62-72-inch ceiling fans commonly implicate indoor use. They suit huge, 300-450 sq. ft. rooms.
Right Now interesting information about best ceiling fans for outdoor!
Do I Need a Downrod for My Ceiling Fan?
Vaulted ceilings are at least 11-12 feet high. If you want to feel breeze, select a lower fan position. Ceiling fans with lights are beneficial. They come with LEDs or several bulbs. Distance from the luminaire to your table or bed decreases its brightness.
Remote control is a good feature too. It's not essential, as you can use a wall switch. Only the reverse switch is usually on the top of the fan case. You are to turn it only twice a year. But it might be challenging to get upstairs. So, how long should a downrod be for vaulted ceilings? Standard requirements are sound and intuitive.
Ceiling Fan Vaulted Ceiling Peak
| Ceiling Height, ft | Slope angle, ° | Downrod length, in/ft |
| --- | --- | --- |
| 10 | 14-18.4 | 12/1 |
| 11 | 22.6-26.5 | 18/1.5 |
| 12 | 30.25-33.7 | 24/2 |
| 13 | 36.9-45 | 36/3 |
| 14 | 36.9-45 | 48/4 |
| 15 | 36.9-45 | 60/5 |
I would say, the distance from the bottom of the fan matters. It should be about 9-10 feet. The longest downrods available are 72-inches long. Most manufacturers offer them as optional parts.
Only the fan sets that allow angular mounting suits you. Most products imply installation on flat ceilings. Leading brands anticipate easy installation on 15-21° slope. Sharper slopes require additional accessories and extra wiring. Special brackets and long downrods are necessary.
Are ceiling fan downrods universal? They range in diameters. ½" and ¾" are common. Threaded ends enable strong connections. Additionally, the finishes are different. Select the same as your original one. So, I would recommend you to order a part of your fan brand. It should be compatible.
Conclusion
Rooms with vaulted ceilings need proper ventilation. A powerful ceiling fan is necessary. It creates ample airflow without making noise. I highlight several models that meet strong requirements. Consider their features and make your choice.