Whenever you live in a hot, southern state, like Florida or Texas, or in a northern one, up to Alaska, the proper cooling, ventilation, and heating is to be arranged in your private house and garage. It definitely should not take a lot of room, or result in enormous electricity bills. Therefore, the best mini split system would be a great solution, providing comfort, being feature-rich and energy-efficient.
However, what are the better ductless heating and cooling system? Which brands are reliable and reputed? Let me review and compare the 6 top-rated devices, well-suited for the cold and southern climates, single rooms and small spaces.


See our selection of the best product!
Pioneer WYS012-17 Air Conditioner Inverter+
Save money all year-round with a highly efficient ductless mini split inverter+ heat pump system

Ultra-silent and beautifully built: perfect for home or light commercial use

Use for both cooling and heating: 12000 BTU/hour, with 17 SEER and 9 HSPF efficiency

Comes with every needed component in the box, including an easy-install 16ft. copper piping kit

Free tech support and a 5 year coverage on the compressor

Voltage: 110~120 VAC, 60 Hz (standard household power, l-n-g)
Top Mini Split System in 2020
Image
Brand and Model
#1. Pioneer WYS012-17


Capacity, BTU - 12,000
SEER Rating - 17.2
Weight, lbs - 19
Warranty, Years - 2

Editor's Choice


Check Price


Read Our Review
#2. Senville SENL-12CD


Capacity, BTU - 12,000
SEER Rating - 15
Weight, lbs - 70.5
Warranty, Years - 1

Check Price


Read Our Review
#3. MRCOOL COMFORT MADE SIMPLE


Capacity, BTU - 12,000
SEER Rating - 17.5
Weight, lbs - 83.7
Warranty, Years - 5

Check Price


Read Our Review
#4. DuctlessAire Energy Star


Capacity, BTU - 12,000
SEER Rating - 22
Weight, lbs - 18.1
Warranty, Years - 1

Check Price


Read Our Review
#5. Mitsubishi MZ-FH15NA


Capacity, BTU - 15,000
SEER Rating - 22
Weight, lbs - 22
Warranty, Years - 5

Check Price


Read Our Review
#6. Fujitsu 12RLS3


Capacity, BTU - 12,000
SEER Rating - 29.3
Weight, lbs - 31
Warranty, Years - 5

Check Price


Read Our Review
1. Pioneer WYS012-17 – Excellent Ductless Mini Split for Normal Size Rooms
The system is user-friendly, made for DIY homeowners. It's pretty simple and intuitive to use, operating on 110-120 VAC, compatible with a standard electrical outlet. The split is already pre-charged with the typical, R410a Freon, and the instructions are complete, clear and intuitive.
All accessories and parts required for installation are included in the package and are available in the package.
the 16-ft copper tubing,
signal wiring,
the cup and liner,
the drain extension,
wrapping tape,
putty.
Therefore, you would need only the tools, like wrenches, a pipe cutter, bender, and gauges. Wiring would also require a breaker, a voltmeter, some wires, and a conduit.
When we compare split system air conditioners that are top-quality and popular, this unit is quite moderate by efficiency and power. 12,000 BTU capacity, 17.2 SEED rating are just a bit above the average. The mini split operates at 5-86° F ambient temperature.
Interesting features
It's quiet, producing only 24-40.5 dB indoors. Additionally, 4 perfect operating modes are available:
heating;
ventilation;
cooling;
dehumidification.
The split is pretty smart: the modes can be switched automatically. The timer, night, auto restart functions are included.
Remote access and programming opportunities would be possible if you purchase a suitable module separately. Thus, I recommend this mini-split system for household applications, small rooms, and offices.
Pros
user-friendly;
pre-charged with the refrigerant;
quiet;
smart.
Cons
the remote control is not backlit.
Conclusion
The WYS012-17 mini split system from Pioneer is simple and user-friendly, intuitive to install and easy-to-operate. It comes with all necessary accessories and freon pre-charged, suiting normal-size rooms and premises.
2. Senville SENL-12CD – An Efficient Split Air Conditioner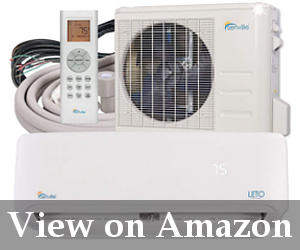 Requiring the proper air conditioning to be arranged in your bedroom, small office, restaurant or nursery. Consider installation of this small, but efficient and user-friendly unit. It is sufficient for providing a comfortable environment in a single room with 500-749 sq. ft. area.
The mini split system is really quiet, producing only 39dB, thanks to the innovative Whisper Technology. The British Thermal Units capacity that makes 12000 BTU/hr and the Seasonal Energy Efficiency Ratio of 15 SEER are just decent for this kind of devices. But quite sufficient, meeting the minimum rating requirements.
Interesting information
Additionally, the mini split operates perfectly at the temperatures up to 5° F. It is powered by a variable-speeds, inverter Toshiba ductless mini split air conditioner heat pump, covered by 5-year compressor warranty.
Professional mounting is highly recommended. However, it's quite easy. If you interpret the instructions that are confusing and not complete. 16-ft installation kit, that is a copper wiring line, is included. Actually, the manufacturer offers also the kits with 25ft and 50 ft. cables. But these accessories can be ordered additionally. If you need a thermostat to be connected, it's possible. But only the Senville-branded parts are compatible.
I would also recommend purchasing a mounting bracket to provide the outdoor unit's security. Generally, the mini split system is perfect, running great and efficient for small and medium-sized premises.
Pros
quiet operation;
equipped with a heat pump;
works on temperate climate;
efficient due to inverter compressor.
Cons
small wiring diagram;
the R410a Freon (refrigerant) is to be purchased additionally.
Conclusion
The SENL-12D mini split conditioner from Senville is quiet in operation, recommended for living room spaces and small offices, garages, and workshops. Its works on temperate climate. Being efficient and not difficult to install, if you have some experience. Get additional parts and consumables.
3. MrCool DIY-12-HP – Split Unit Air Conditioner with Wi-Fi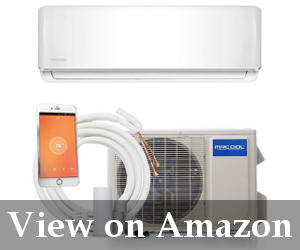 Wondering, what is the top mini split AC system, we consider the appliances' features, ease of mounting and the level of control. The unit from MrCool stands out by the DIY simplicity and the perfect usability. It is intuitive to mount, even for amateurs. No special equipment or tools are necessary.
The refrigerant is available.
The package includes the line set that is 25-ft long, quite sufficient for a small room, power cables.
The unit's voltage is standard, 120V, so the wiring is quite simple.
Additionally, the conditioner features the sophisticated control system, coming with Wi-Fi and the special mobile app. You can control the split operation remotely, through an iOS or Android device.
Features and benefits
However, the appliance is not only smart but feature-rich and durable. It is beneficially equipped with an evaporator and humidifier. Leakage detection function, programmable thermostat, a washable filter, and a swing button are available. The device automatically restarts in case of a power blackout.
Finally, the mini split comes with Gold fin, corrosion-resistant condenser, being durable and reliable, covered by 7-year heat pump warranty. Therefore, I recommend the system among the efficient ductless mini split air conditioners & heat pumps, long-lasting and self-adjusting ones.
Pros
durable;
quiet (24-45 dB indoors);
ready for installation set;
remote controllable;
adjustable.
Cons
the app is not quite reliable;
a generic, not complete user manual.
Verdict
The DIY-12-HP mini split system from MrCool is smart and user-friendly. It allows DIY installation, featuring Wi-Fi remote control options, coming with multiple beneficial features.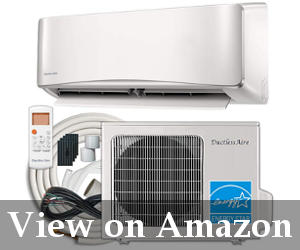 The system comes with a respectable, comparatively high SEER rating and good BTU. Being quite efficient and user-friendly.
It includes a lot of beneficial features, such as:
follow-me;
auto cleaning;
self-diagnosis (with electronic diagnostic built-in);
auto protection.
The mini split is designed to be the most comfortable and advanced for the users. It's equipped with several easy-access, washable filters, including the HEPA one. They trap and remove harmful airborne particles, like pollen, dust, smoke, mites, pet dander and hair perfectly well. The split makes the air you breathe the cleanest possible. Allowing you to avoid dangerous respiratory diseases like hay fever or asthma.
Useful accessories
The appliance features several modes: sleep, turbo (for fast cooling down and warming up) and 3 fan speeds. An LCD display is available. The condenser is covered by the special, anti-corrosion, Golden Fin coating, being long-lasting and high-performance. Even when the air outdoors is salty or it rains hard.
The indoor noise level is extremely low, up to 39 dB, 29 dB at normal conditions. Additionally, the mini split system is previously charged with the freon; a long, 25-ft line is included in the package. Thus, I highly recommend the device as the top rated mini split air conditioner. I would also call it the super product in terms of the price-quality ratio.
Pros
energy-efficient;
durable and reliable;
packed full with beneficial features;
quiet;
advanced air filtration.
Cons
basic, not sophisticated control.
Conclusion
The DA1215-H1 mini split system from DuctlessAire is advanced and user-friendly. It comes with several beneficial features, filtering and flowing the air perfectly well. Additionally, the split is energy-efficient, self-cleaning and auto-protection.
The system is suitable for a cold climate: it works efficiently when the ambient temperature is up to -13°F. Quite naturally, it can be used for heating, coming with the Hyper heating, inverter-type, Energy Star heating pump. It operates comparatively quietly, producing 26-34 dB indoors, 49-51dB outdoors.
As all mini-split conditioners, the system is single-zone, but it's really efficient, reliable and durable. It ensures great comfort consistently on the premises from 550 to 700 sq. ft. large, suiting basements, kiosks, kitchens, home offices. The appliance includes several unique features, such as Hot Start and Auto restart.
Interesting features
The mini split is smart, selecting the cooling or heating mode, any of 5 available speeds, switching automatically, adjusting, following the room size and the season.
Additionally, wireless control is available. The unit can be operated from a smartphone, PC or tablet remotely if you purchase and install the compatible, MHK1 device.
The mini split is equipped with an i-see 3D sensor that scans the premises, aligning the air to the people. It is covered by long and complete manufacturer's warranty that is provided only in case of the professional installation by a licensed HVAC contractor.
The split stands out by the advanced filtration system that features 3 different, unparalleled filters (Hybrid Catechin, Blue Enzyme, Platinum Catalyst). Thus, dangerous and unpleasant bacteria, viruses, germs, odors, allergens, and dust nanoparticles are successfully removed.
Pros
durable and reliable;
smart and self-adjustable;
advanced, easy-to-clean filters;
energy-efficient;
environmentally-friendly.
Cons
the line set is absent in the package;
professional mounting is necessary.
Conclusion
The single-zone mini split system from Mitsubishi is sophisticated and smart. It features the advanced filters, being suitable for the states with cold climate, self-adjusting and controlled wirelessly from a remote smartphone or PC device.
6. Fujitsu 12RLS3  – Most Efficient Mini Split Heat Pump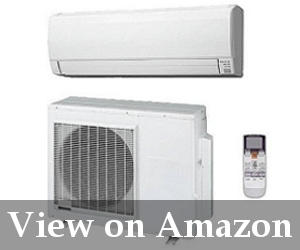 The system is amazingly energy-efficient and smart. It is packed full of sensors and adjustment devices. Par example, the human sensor detects when you leave the room, selecting an idle mode. The optimal operating mode is renewed as soon as you return to the premises. This way, energy is saved, while the mini split is highly functional and efficient.
Both powerful and low-noise modes are available, as well as weekly and program timers. Additionally, the airflow can be automatically adjusted, providing possible comfort. It's quite suited to heating needs, being able to operate at low external temperature, up to -5° F. Moreover, the split system's heating capacity is even higher than the cooling ability, making 16,000 BTU/hr.
Additional information
The mini-split is single-zone but suitable for medium-sized rooms. It arrives pre-charged with the refrigerant. However, the installation is not easy. The copper lines, parts, and accessories are to be purchased separately. Additionally, the system operates on 220V, so the wiring is a bit complicated.
Pros
energy-efficient;
smart;
meets medium-size rooms requirements;
the Freon available;
the features can be activated or disabled.
Cons
the lines and accessories are not included.
Verdict
The HalcyonTM, 12RSL3 mini split system from Fujitsu is incredibly energy-efficient, smart and advanced. It automatically adjusts, following your moves, according to the room space and ambient temperature. However, the accessories are not included, and the mounting is not easy, requiring hiring a licensed HVAC contractor.
Buyers' Guide
Mini split air conditioners are commonly selected for the separate house or office rooms. They serve as the perfect additions to the available central heating systems. Including the non-ducted ones that are filled with hot water, based on wood, gas or fuel-operated space heaters. The solutions perfectly suit the premises and utility spaces. Where ductworks can't be installed. For example, basements, garages, workshops.
How Do Mini Splits Work?
The name "split" comes from the system construction as it always includes two basic units: an indoor and an outdoor one. The basic components of an air conditioner of this kind are:
a heat pump or a condensing unit;
piping, connections or lines;
an indoor, air handling unit with an evaporator inside;
a remote control.
Ductless mini splits are more energy-efficient and affordable as. They don't feature the expensive and difficult to install ductworks. How does the refrigerant flow in this case? It circulates through the flexible piping that is compact, discreet and custom-designed, fitting the house or the room style. Commonly, 2 lines are included: for liquid and gas freon.
An evaporator includes a copper coil, an expansion valve and a fan with metal (commonly aluminum) fins. Cold (liquid) freon comes to the outdoor unit and starts boiling. Thanks to the heat energy released from the process, hot air is fanned out throughout the room.
Vice versa, the heat pump adopts the boiling refrigerant and cools it down when cooling is required in the summertime.
Benefits and Drawbacks of Mini Splits
Ductless systems are beneficial, as no heat or air is lost while being transferred through the ductwork. They are better in terms of:
air quality;
energy-efficiency;
ease of installation;
safety;
house design solutions.
Mini splits are easily-hidden, requiring less space to be mounted. However, they are not sufficient for large houses and offices. Additionally, they require some maintenance that includes the filters' cleaning and charging with the refrigerant.
Mini Split Selection Issues
A mini split system is a pretty complicated device. It's compact in comparison with a central system, however, it's still very sophisticated, coming with multiple features. Thus, selecting the better mini split system that meets your needs, you may consider its:
energy efficiency;
durability;
the room size;
level of control;
adjustability and usability;
the brand reputation.
All the top-quality appliances I review herewith are single-zone. Sufficient for normal and medium-sized rooms. However, as every popular brand has its unique peculiarities, I would advise you to focus on your priorities. That is, Wi-Fi control, thermostat functionality or the advanced (anti-bacterial, activated carbon or electrostatic) filters.
As to the ease of mounting. The work requires advanced professional skills and long-time experience. I would still recommend hiring a team of licensed and certified contractors. However, the availability of the components and consumables still matter. So, I would advise you to estimate the total mini-splits' cost. Including all the necessary parts to compare and contrast them.
Daikin vs Mitsubishi vs LG vs Fujistu Systems
Wondering who makes the top mini split air conditioner, consider your needs and priorities. I guess, if you've selected a top-quality appliance from one of these legendary brands, anyway that's something. These products are quiet, energy-efficient, reliable and long-lasting.
However, Daikin, LG and Fujitsu devices feature the beneficial Wi-Fi options. Mitsubishi and Daikin mini splits come with the advanced motion sensors, being energy-efficient and comfortable. Mitsubishi's internal unit is the quietest and the most suitable for low outdoor temperatures. According to the Quora forum, Mitsubishi mini-splits are more durable than Daikin devices.
Is Energy Efficiency So Important?
Being ready and willing to save on electricity bills, consider the SEER (Seasonal Energy-Efficiency Ratio) rating. It envisions the seasonal changes during the year. Calculated as the cooling BTU output to the energy consumed (watts per hour) during the full year.
Quite naturally, minimum SEER requirements depend on the climate within the state. For example, in California and the other southern states, it makes 14, in the northern states, as the DOE has imposed, SEER is to be not less than 13, since the beginning of 2015.
HSPF (Heating Seasonal Performance) rating is similar, showing heating output efficiency.
Final Verdict
I guess the better mini split system is WYS012-17 from Pioneer. As it's smart, friendly, packed with the parts and consumables, essential for the installation. The appliance from Senville is the most energy-efficient. The Mitsubishi MZ-FH15NA set is the most user-friendly. Quiet, durable and able to filter the air pretty good. It suits the states with cold and temperate climates.