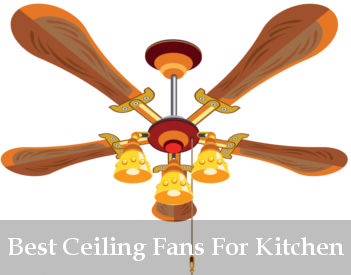 People got used to cooling air with modern air conditioner, but not many of them remember that they are a reason for many diseases. It is much better to turn to old popular fans and choose a perfect example out of the best ceiling fans for kitchens. This simple device can fill the whole kitchen with a cool fresh air and create a pleasant atmosphere even on a hot summer day.
Three blades spinning around the axis move the air around the room lowering its temperature for several degrees. In addition, you can control the spinning speed to create the most suitable environment in the kitchen even if any of the heating devices are switched on. The fan can also serve as a light and be an adornment of the room. If you are still interested in the answer to the question 'Is ceiling fan in kitchen good idea?', undoubtedly, it is. You will love the cooling fan as soon as you install it but choose the most suitable example personally for you from top 5 best kitchen fans.
Hunter is a famous brand that produces kitchen ceiling fans that combine the quality of 19th century craftsmanship and the latest trends in design and technology. All the company products have an excellent quality, amazing style, and silent performance.
This ceiling fan for a kitchen is one of the best in its line. Its exclusive design with brown wood-style blades and light kit with toffee glass make it a trendy addition to modern kitchens.
The ceiling fan is equipped with a WhisperWind motor that guarantees ultra-powerful air movement and extremely quiet performance with airflow efficiency of 76 CFM/Watt.
It is reversible allowing people to change the direction of the air depending on the season. The high quality of the motor is confirmed by a
lifetime motor warranty.
Features and benefits
This great kitchen fan can serve as a light. It includes two 60W bulbs to provide a kitchen with enough light. However, you can use the fan without light kit as well.
The ceiling fan is switched on and off with a single pull chain with 3 speeds.
In addition, there is a
12-degree blade pitch
for optimal performance.
The ceiling fan has 5 blades with 52 inches of the total size. It is made from metal and has blades of two different colors: cherry and stained oak.
Pros
Lifetime warranty for a motor;
High quality;
Quiet;
Easy to install;
Excellent customer service;
Includes a balance kit.
Cons
Not suitable for low ceilings (download of 17 inches);
Expensive parts to replace.
Verdict
Hunter kitchen ceiling fan is a reliable and durable example as the company has a long history of making fan products. It is powerful and silent with an additional light function. Of course, it is impossible to use this light as the main source but it will create a necessary atmosphere if required. Quality fan to cool air in the kitchen.
This ceiling fan is a decent representative of the Light Wave Collection. Traditionally styled it will look perfect on any kitchen ceiling thanks to the universal finish too.
The ceiling fan has excellent characteristics. There is a 172mm x 14mm motor with 65.3 Watts power that guarantees an airflow efficiency on three speeds:
Low (1752).
Medium (3393).
High (5024).
The motor is non-reversing.
The blades are of brown color and 52-inch size. The blade pitch is 48 inches.
The etched white lens on the fan has a 17 W dimmable light module with LED lights to provide enough light in the kitchen of any size.
The ceiling fan is very easy to operate thanks to RCS213 remote control included. You can switch between three different speeds and adjust the light to your preferences thanks to the full-range dimmer.
Features and benefits
One more huge benefit is two possible ways of downrod assembly. It will look great on low and high ceilings thanks to the standard of 6 inches and a minimum of 4.6 inches downrod.
Pros
Very bright lighting;
Spotlight;
Outstanding build quality;
Easy installation;
Lightweight;
Remote control;
Energy efficient.
Cons
Noisy after installation (must run for 24 hours to become more silent).
Verdict
An ergonomic and stylish ceiling fan will look great in the kitchen with any design. Being energy efficient and possessing huge steel blades it moves air around the room creating a pleasant breeze. Improve the airflow of the kitchen with this powerful and silent example as it is worth your attention.
Westinghouse is the company that follows the latest innovation trends and this alloy ceiling fan is a good proof of this fact. Being not very sizable – only 42 inches – it has an awesome modern look in two possible finishes: gun metal and black graphite. The central part is made from opal tossed glass of white color, so it is undoubtedly a winning combination.
The characteristics are not less impressive. It has three blades that can easily fill with air flow the room of up to 144 square feet. The 153 mm × 10 mm silicon steel motor has a dual capacitor that guarantees its longevity. It is also supported by a lifetime warranty from the manufacturer.
There are three speeds in this reversible fan. The highest airflow efficiency is 80 cfm per watt.
The kitchen fan can also work as a light. It includes two 40-watt G16-1/2 light bulbs located in the candelabra base.
The fan will look perfect both on low and high ceilings as there is a 3/4-inch by 4-inch downrod with 78-inch lead wire. That makes it easy to install and use.
Features and benefits
The fan is rather energy efficient consuming 51 Watts without light. There are two possible ways to operate it: wall or remote control for the comfort.
All other parts except for motor have a two-year warranty too.
Pros
Reversible;
Suitable for low and high ceilings;
Lightweight;
Easy to operate;
Excellent quality;
Beautiful modern design.
Cons
Lights get hot;
Difficult to connect wires and complete the installation.
Verdict
The main benefit of this kitchen ceiling light with fan is its modern design. Metal finish looks incredibly stylish in any room including a kitchen. Candelabra bulbs are very bright and will add more light on any gloomy day. The fan is enough for a quite big room and will serve you long enough due to a very high quality.
What makes a good fan? Of course, it is energy and airflow efficiency. This Emerson example is definitely so. Its main goal is to make people's life comfortable and this fan copes with this task well.
This 50-inch ceiling fan can serve as a fan and light. However, you can choose one of the options thanks to the switch cover included.
The fan has 5 reversible blades with 12-degree blade pitch that have appliance white and oak-style finishes.
The blades have
precision-lock arms
and
pre-attached screws
to assembly the fan quickly and easily. There is a
188 mm x 20 mm motor with 65 Watts power
. In combination with blades, it guarantees high RPM range of 50 to 244.
One more great benefit of this ceiling fan is a dual-mount design. You can adjust the height of the fan depending on the height of the ceiling. It can be installed both close to the ceiling or with the down rod up to 4.5 inches.
Features and benefits
The ceiling fan is easy to operate. There is a simple pull chain to operate the fan. You can choose one of three speeds and switch on and off the light pulling it.
The ceiling fan is produced by the manufacturer with 125-year history so its quality should not be questioned. In addition, it will save on energy and adorn your home with a trendy look.
Pros
Quiet;
Versatile;
Easy to attach;
Distributes very much air;
Nice design;
Excellent quality;
Alternative of using either a fan or light.
Cons
Plastic clips on the chain are to an easy to break;
Impossible to disassemble.
Verdict
What differs, this fan from other models is kitchen ceiling fan light fixtures. It is not only easy to assemble and attach it but also chooses what exactly you would like to switch on: a fan, a light or both of them. You can also adjust the fan height and choose a suitable mode of three. It really deserves a title of a versatile one.
The best award-winning ceiling fan for kitchen is the Haiku piece. It offers strong airflow and utmost efficiency thanks to its high-tech solutions.
The fan is 4 times more efficient than other ceiling fans.
You should not look for any kitchen ceiling fan ideas as with this example you will significantly decrease your utility bills and add a piece of smart technology to your home.
The model is the first fan that can be controlled by voice through Amazon Echo. You can use Amazon Alexa to dim the room too. There is an efficient LED lighting with 16 brightness modes. The lights last up to 30 times longer than ordinary bulbs and are half more energy efficient than 40 W bulbs.
Features and benefits
Certified by Energy star and tested professionally this fan will never make you suffer from wobbling, rattle or clicking. It is extremely silent and easy to use. There are two downrods included for different ceilings.
You can operate it using a remote control and adjust settings in the Haiku Home mobile app. In general, this kitchen ceiling fan is highly balanced, durable, and silent.
Pros
Ultra-lightweight;
Smart and Wi-Fi;
Made of very durable plastic;
Energy efficient;
Extremely silent;
Multiple modes.
Cons
Can be installed only by a professional;
Requires many other devices to get a full functionality.
Verdict
A wonderful high-tech product that will become a perfect addition to the Smart home. You will love its versatility and energy efficiency. It guarantees an excellent airflow so you will never regret buying it.
Buyer's Guide: How to Choose a Ceiling Fan for the Kitchen
You may see many different questions on the Web asked by people who are thinking about buying a kitchen fan. They may sound like 'ceiling fan in kitchen: yes or no?' or 'what is better: a conditioner or a smoke ceiling fan?'. However, it is undoubtedly a necessary device in every kitchen. There should not be any doubts whether you need to buy a ceiling fan or not; it is better to consider several points how to choose it right.
Fans can be indoor and outdoor.
Fan size: rooms under 80 square feet require a fan of 24-42 inches, while one's over 150 square feet – over 52 inches.
A fan with light or not: you can choose a model with replaceable bulbs or LED lights.
Selection of efficiency and airflow.
Choice of the design and finish.
Fan control setting: there are examples with a pull chain, wall control, remote control and reversion.
Best ceiling fans for kitchens: conclusion
A ceiling fan is a necessity in the kitchen. It is the only room where you heat the air more often and a fan can help to make your presence in the kitchen more favorable and comfortable. Choose your fan when you get the best lighting for kitchen ceiling to consider if there is enough light and if a fan suits the interior. Having made the right choice you will be always happy to use it in the kitchen.